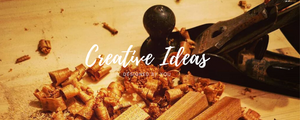 Customers Inspired Designs
Some creative and alternative uses for our products by our customers. We love to see your inventive ideas, send us pictures of your designs and we will put them on the "wall of fame".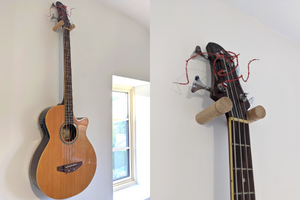 Aislinn's Guitar stand
Simple yet brilliant idea using our wall hooks to create a practical guitar holder which also looks like a great piece of wall art.
Aislinn used our Oak Wall hooks to creat this design. Check them out and see what inspired designs you can come up with.
Check out our Oak Wall Hooks
Lauren's Bathroom
Using a number of our bathroom products and a lick of Paint Lauren transformed her bathroom and we think the results look great.
Lauren used a combination of our, Towel Rail, Toilet Roll Holder, Wall hooks, Leather shelf Straps & Oak Shelf along with our leather furniture handles for her cupboard.
Check out our Bathroom collection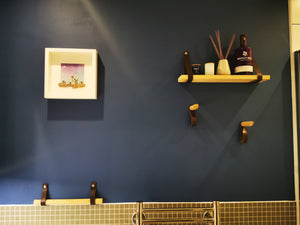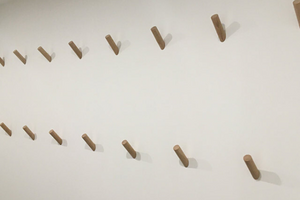 Rory's Hook rows
Rory used 15 of our Large Angled Wall Hooks to create these wall hook rows in his home.
The wall looks great and makes a feature of what is a basic household item.
.
check out our angled wall hooks
Kathryn's Picture Wall
Kathryn used our Small angled wall hooks to make a stunning display of her artwork and mirrors on her stairs.
The finished piece is really original and we love it.
.
Check out our Small Wall Hooks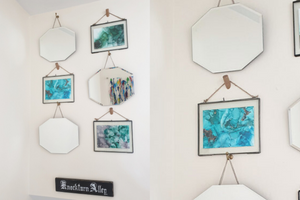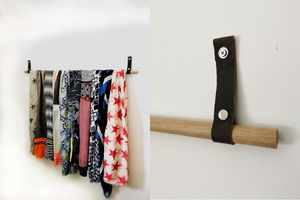 Charlie's Scarf Rail
Charlie wanted a bespoke Scarf rail for her collection. She asked us to modify one of our designs to be used for her scarf storage.
We took our popular towel rail and made some modifications and added a snap fastener and a 1.2m white oak rail to make this fabulous rail. We are really happy with how it turned out.
check out our towel rail